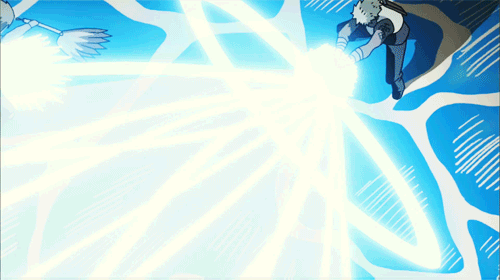 Name:
Storm Release
Possessors:
N/A
Type:
Elemental Affinity
Location:
Nikkousato | Sun Village
Appearance:
Those who possess this bloodline are not normally born with any special features or traits.
Abilities:
Storm release is the combination of water and lightning chakra natures. By combining the fluid nature of water with the powerful intensity of lightning, storm often takes the form of laser or energy beam type effects. Mostly produced from the body they can be used as high speed blast of energy able to morph and take various different shapes. Storm can also give off large amounts of light that at certain levels are able to blind or stun for a short duration. Users can create constructs of energy made out of storm, and utilize jutsu with bright blinding effects like flashes of light.
Weakness:
Storm is weak against earth jutsu of equal rank. The earth element can be used to defend against storm, creating barriers or blockades that deflect the energy beams, or shield the user from the flashes of light. Earth jutsu can be very effective in blocking off the enemy from using their attacks, having to find another avenue to fire off the storm element.
Owners:
- Meloku Mirriam
-
-
-
-
Jutsu List:
-
Storm Halo
[D-Rank]
-
Flash Clap
[D-Rank]
-
Illuminated Pulse: Targeting
[D-Rank]
-
Storm Orbs
[D-Rank]
-
Storm Wall
[C-Rank]
-
Storm Rods
[C-Rank]
-
Illuminated Pulse: Mass
[C-Rank]
-
Ranton: Laser Circus
[C/B/A/S-Rank]
-
Ranton: Thunder Gale Cloud
[B-Rank]
-
Ranton: Gale Dragon
[S-Rank]