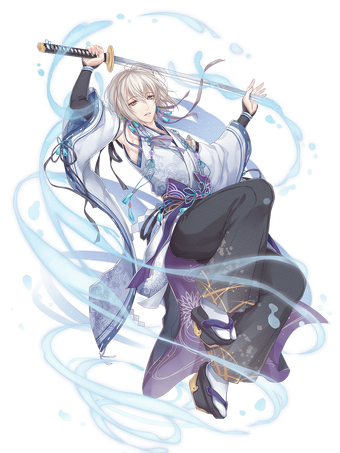 Name:
Haruka Shimizu
Nick Name:
Haru
Age:
19
Gender:
Male
Clan:
N/A
Bloodline:
N/A
Origin:
Gekkousato
Village:
Moon Village
Appearance:
Haru is the type of pretty that makes you wonder what he's doing as a shinobi. With the way he dresses and acts, it isn't entirely uncommon for him to be mistaken as a courtesan. His style of dress is typically quite neat and nice, in whites, blues, purples, and greys. The materials are all of high quality and typically embroidered with wavelike designs near the edges. All in all, his outfits are richly designed and give 0 indication of his real occupation. His face matches the outfits just as well, with silvery shoulder length hair and equally silver eyes that make him seem soft and even a little young. His skin is pale and seemingly umblemished, smooth to the touch and very soft. Little do people know, beneath that skin lies a great deal of pure lean muscle.
Height:
5'7"
Weight:
143 lbs
Personality:
Haruka is typically like the unbroken surface of a pond. He is calm, tranquil, and usually undisturbed by normal mortal affairs. Some say he is as detached from the world as a spirit, but the truth is simply that he's good at masking his emotions. He's just as emotional as the next person, but hides it behind the serene smile that has become his mask. He never speaks loudly, never fights with harsh words or wastes his breath on unnecessary talk. Haruka is the type of person to hide everything he is feeling, and never really says what he means.
Many think of him to be deceitful and unworthy of trust. These are the people who know him just well enough to know his seemingly unaffected attitude, but not the soft core within. What people don't see is the soft boys who picks up stray kittens and takes them home, or gives his lunch to poorer people and goes hungry for the sake of those less fortunate. He should mind being seen as a liar and a snake but... he doesn't. The mistrust makes it much easier to hide his vulnerabilities, as nobody can get close enough to find them.
Haruka is insecure. He doesn't see himself as good enough, not as a Shinobi or as a person. He has confidence in his appearance and ability to charm strangers for missions, but in real life? He'd much rather hide away and keep all his worries under lock and key. Nobody is allowed to see that side of him.
Likes:
-Water/Rain
-Stormy Days
-Elegant Clothing
Dislikes:
-Overly hot days
-Being called a girl
-Bullies
History:
Haru grew up relatively normally, born to two civilian parents who were overjoyed to have such a beautiful baby boy. He was happy and healthy, and his parents were proud when at the tender age of 5, he decided he wanted to be a shinobi when he grew up in order to help people and protect his village. He kept that belief growing up, and though his parents worried for him, when he was old enough they allowed him to register in the academy.
The thing they didn't quite understand or like about him though, was his fascination with pretty, expensive clothes. He loved to dress up, and his parents simply couldn't afford or understand what the appeal was. They did not hate him for it though, and did their best to not make him feel as if he were any different. He didn't realize how different he truly was until he got to the academy.
The kids there bullied or ignored him, stating that they didn't want to be friends with a "girlie boy." He studied hard despite these distractions, though, and as much as it hurt he never let them have the satisfaction of seeing him change to fit in. He kept wearing pretty clothes and growing his hair, and working hard.
Fast forward to his teenage years, and now he'd graduated from the academy. He didn't have any friends, but that was fine. Instead, he learned about a strong kunoichi who was known for her ability to complete both normal and honeypot missions. She did it all in the same kind of pretty clothes Haruka liked to wear, and he instantly admired her. Once he was an adult, he decided he'd like to try training for those kinds of missions as well. It made him nervous, but those kinds of missions weren't the most popular kind, and not many wanted to do it.
He trained in both ninja arts and the art of seduction anyways. Over time, he learned how to mask all his emotions behind a pretty smile, and how to let his body draw eyes with its movements. Now 19, he's ready and eager to try something more, when he can.
Face Claim:
Sanma Shioyaki from Food Fantasy
Owner:
Kitarial