It was an exciting day for Tatsuya. He'd had done several simple missions for the village thus far but all of them had been internal affairs. This time he'd been tasked to go with a team and deliver a package to Gekkousato. Not only would he be able to get out of the village for a few days but he had never been to Gekkousato before either, he was definitely looking forward to the kind of trouble he could stir up there. He sauntered up toward the village gates, his snake-skin jacket slung over one shoulder, wearing his leather pants, gloves, and steel-toed shoes. He was dancing to a tune that only he could hear.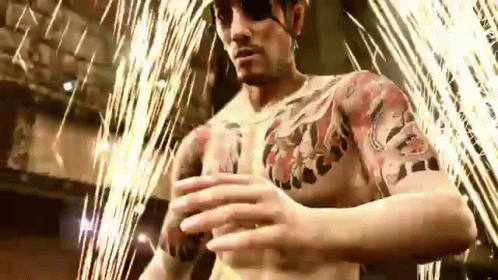 He had just worked out a seal to put his new puppet, Piero, into, and it was inscribed on the palm of his left-hand glove. Other than that his only weapon was a wakizashi sheathed vertically along his bare-back, that and a few tricks hidden in his jacket. He was not one to overpack and was confident that his abilities would see the mission through to completion, and have a little fun along the way. He saw the wagon ahead that they were supposed to be escorting and noticed someone else had beaten him here. He had come on time and everything! What an asshole!
The man was laying on the top of the wagon, relaxing from the look of it, that just won't do at all. Tatsuya took a running jump, flipped in the air, and landed on the wagon's roof, squatting just above the man's head, staring down at him. "Sakura-chaaan~ Wake uuuuup~" In a flash he drew the wakizashi out of the sheathe on his back and stabbed it down toward Sojiro's face. He had no intention of stabbing him, this time, but he wanted to see if he could make him flinch.