Name:
Leonis
Type:
Normal Summon
Rank:
C-rank
Contract:
Lion's
Elements:
Katon
Specialty:
Ninjutsu
Meters per post:
3 MPP
Hit Points:
C-Rank: Can be hit by 2 C-rank attacks or 4 D-Rank attacks
Chakra:
C-Rank: has 50 Chakra
Stamina:
C-Rank: has 50 Stamina
Description: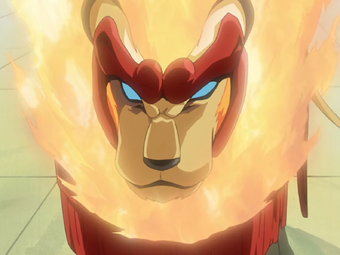 Leonis is a juvenile lion cub just beginning to come into his own. He is the last born of the current King of the Pride - Haphestus. Unlike most of his pride he has fur the color of fire. His mane and tail tip are golden in color, and on closer inspection are made of fire, that is harmless to the touch. He boasts bright blue eyes the color of piercing ice. He usually wears a leather vested covering that looks like an armored saddle and is deep red in coloring. He is kind, and prideful, holding true to the values and views of the Southern Prides sense of honor and justice.
Abilities:
Flame cloak:
Leonis has a cloak of flame that can surround him when activated, that causes burns on those that make contact with him.
Jutsu:
Fire Style: Dragon Flame
Fire Style: Flame Hurricane
Fire Style: Flame Bombs
Items:
Riding Saddle armor.
Last edited by Genkumaru on Wed Jul 15, 2020 9:04 pm; edited 2 times in total