Name:
Koka-ito: Threaded Whip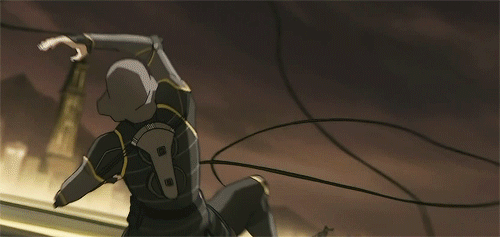 Specialty:
Bukijutsu, Bloodline
Rank:
C-rank
Element:
N/A
Cost:
10 SP, 5 CP
Range:
10 meters
Duration:
3 posts
Description:
The user spoils out 40 meters of their thread from their spool device and forms two whips of hardened chakra enhanced threading in either hand. They can then use this to whip out at targets within ten meters of them to perform bludgeoning and slashing attacks. The length of the wire is cylindrical in overall shape nut sharp in nature, whilst the tips are ball like in appearance and can deal bludgeoning damage on contact. These are the clan's unique hardened hair strings and as such are equivalent to weapons of the same rank as far as damage and density. Passively these can be used for movement as opposed to walking, by firing the whip at a targeted object or structure that is capable of holding them, and pulling themselves towards it. These can be used in tandem to travel large distances quickly, but when being used like this can not be used as weapons (Can not move more than 5MPP and costs an action.). An additional 10 SP and 5 CP can be used to extend the technique an additional three posts.
Status:
Open to Tsuyoiito clan members. Must have a Chakra
threaded hair spool active.