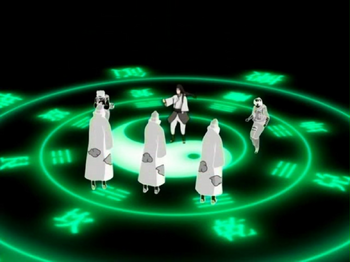 Name:
Gentle Fist: Eight Trigrams Sixty Four Palms
Specialty:
KKG
Rank:
A-rank
Element:
N/A
Cost:
20 CP 15 SP
Range:
Contact
Duration:
1 Post
Description:
Gentle Fist: Eight Trigrams Sixty Four Palms is a maneuver of the Gentle Fist fighting style. This technique is used to close off the flow of chakra through Sixty Four chakra points of an opponent's chakra pathway system. The user will attempt to deliver sixty four quick jabs, that ultimately are aimed at stunning an enemies chakra system. While these individual jabs do not do very much damage, they are able to completely render an opponent useless for a short time. If the first of the sixty four jabs lands, then all sixty four will land, all using the same single action. When this attack lands, the enemy will have their chakra pool stunned for the next turn, preventing them from using any technique, jutsu or attack that requires a chakra cost. Their MPP will also be reduced by 2 for the next two post.
If this technique lands, the user may use One Hundred Twenty-Eight Palms directly after it without needing or consuming an action. They still must pay the resource cost for activating the next phase, but can do it without using an action.
Status:
Must posses the Byakugan