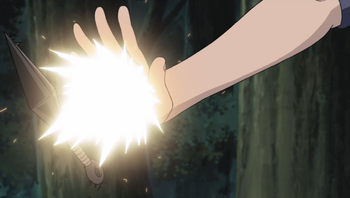 Name:
Bakuton: Explosion Palm
Specialty:
Hybrid
Rank:
D-rank, C-rank, B-rank, A-rank, S-rank
Element:
Bakuton
Cost:
5 CP/5 SP, 10 CP/5 SP, 10 CP/ 10 SP, 15 CP/15 SP, 20 CP/20 SP
Range:
Touch
Duration:
Instantaneous, at A-rank it allows three posts of flight, and four posts at S-rank.
Description:
The user creates a small explosion in their palm. If properly timed and angled, it can be used to send thrown projectiles of the same rank back at the enemy or create bright flashes of light that blind those who see it directly for 1 post. At A-rank and later it allows the user to fly equal to their movement speed.
Status:
Open to Bakuton users.
Last edited by Genkumaru on Thu Jul 02, 2020 11:21 am; edited 1 time in total