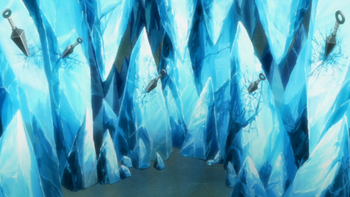 Name:
Hyouton: Crystal Wall
Specialty:
KKG
Rank:
A-Rank
Element:
Hyouton
Cost:
35 CP
Range:
a ten meter two meter thick line anywhere within ten meters of the user.
Duration:
3 posts
Description:
The user creates walls out of ice crystals to deter their opponents. The reflective surfaces of ice can serve as mirrors for certain genjutsu that require mirrors to work. The ice is quite thick and can block even katon techniques of the same rank but not a rank higher.
Status:
Open to Ice release users.