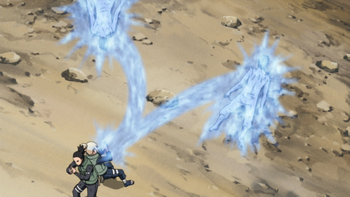 Name:
Mind Clone Technique
Specialty:
KKG
Rank:
C-Rank
Element:
N/A
Cost:
15 Chakra
Range:
20 meters
Duration:
4 post
Description:
An advanced version of the Mind transfer justsu. This jutsu allows the user to separate a part of their consciousness into two separate pieces and attach each piece to two different living people. After forming the famous hand sign, the user will send forth an unseen wave of their spiritual energy, attaching it to their target. The target can be friend or foe, as long as it is a living human being. The spirit travels in a straight line and can pass through solid objects. This jutsu can not be detected or purged while the user is present. However if the owner uses another jutsu through their consciousness, the effected person becomes aware of their presence. While possessing someone, the owner can continue to move around like normal, but can no longer use non yamanaka jutsu.
This jutsu acts exactly like the original mind transfer, but can hit two targets instead of one, allowing you to reside in multiple people at once. When using this jutsu you can use the one action to fire both beams at your targets. if one misses while the other hits, the person hit will still be under the effects of the jutsu.
While your consciousness is inside another person, you can sense the same senses as them. You can see what they see, hear what they hear, even feel their emotions. All of this information is instantly replayed back to your primary consciousness and body. While possessing another person, you can use other yamanaka jutsu through this consciousness as a medium.
Status:
Must possess the Yamanaka bloodline