Name:
Ta-seti
Type:
Odachi
Size:
40in (Blade - 33in, Hilt - 7in)
Rank:
C-Rank
Description: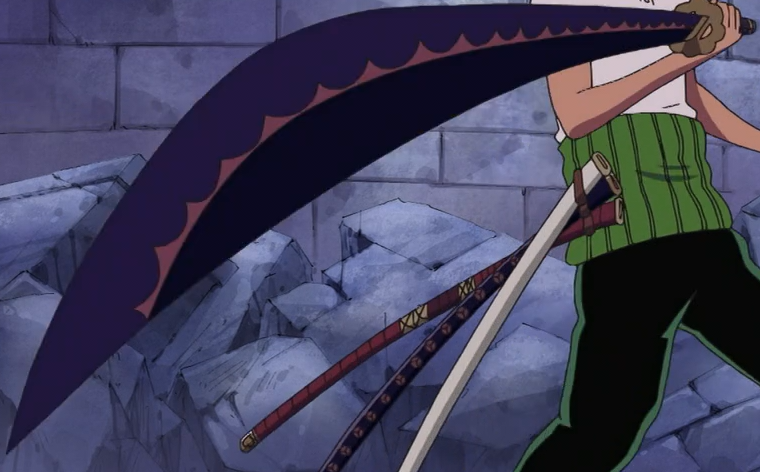 At a glance the weapon appears to be your ordinary run of the mill katana. Upon closer inspection one can see the length is at least 10in longer than your average katana. The metal is made from chakra metal, but is colored so that it appears black with dark purple designs of fire running along the bladed edge of the weapon. The metal is 3in thick making the reverse side or the non-bladed side serve as a blunt weapon; this is in case one has no desire to kill but instead to incapacitate a foe. The hilt is made from thick bamboo and wrapped in a black cloth that can be unraveled at the users leisure.
Function:
The weapon itself serves to slash, stab, or land blunt force trauma (if the reverse side of the blade is used). It can be used defensively to block, parry, and/or deflect incoming attacks. It is durable enough to slash boulders without chipping and sharp enough to cut a leaf in the wind.
Abilities:
Bright blade - A rather simple ability that costs the user 15 Chakra Points to activate. Upon meeting said requirements, the blade will give off a blinding light that is bright enough to blind a foe for one turn, double if they have acute vision. This can be done while the weapon is being held or remotely. If remotely the user performs a single hand-sign (an invented one thus must be known to use the ability. It is possible for others to use the ability if they discover the hand-seal. The range of the light, close enough to blind an individual(s), is 15m. The range it can be remotely detonated is 30m away from the user.
Status:
Personal
Last edited by Anubis on Mon Aug 10, 2020 4:53 pm; edited 2 times in total