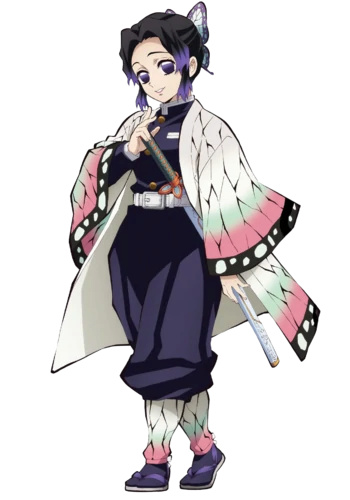 Name:
Cho Tsuchinaga
Nick Name:
Age:
18
Gender:
Female
Clan:
N/A
Bloodline:
Butterfly Bloodline
Origin:
Nikkousato
Village:
Nikkousato
Appearance:
Cho is a petite girl with pale skin and large, compound-looking eyes that do not possess pupils, only a haze of gradient purple, which make her eyes appear similar to those of bugs. She has shoulder-length wavy hair that fades from black into dark purple, usually styled at the back of her head into a "yakai-maki" style and fastened with a white and purple butterfly ornament. She has split ear-length bangs that rise a little away from her head before falling down to frame her face, with two thinner chin-length strands below them. Cho is rather short in height and has been described as having a small and weak-looking build. She commonly wears a uniform that belonged to her mother. It consists dark-purple tinted straight-lined black jacket and hakama pants that are tucked into a butterfly pattern fabric around her lower legs. She also wears a white haori that previously belonged to her older sister, which has a butterfly wing pattern that fades into a turquoise then pink color on the sleeves and bottom edges which are cuffed with a black and white dotted trim. She wears white sandals with purple straps for footwear.
Height:
5'3"
Weight:
120 lbs
Personality:
She is a somber fellow. A realist without the energy to argue with optimists and pessimists. She understands the world in ways that many do not. It's survival of the fittest. Death is expected. She is a knowledgeable girl that takes herself too seriously. Her sense of humor is lackluster at best. She learned to analyze the world and can pinpoint minute changes at far distances. She is very resourceful. Unlike most of her clan, she is not picky about the type of butterflies around her. She is introverted, prefering to keep to herself in most cases. Though this is not  because of the way people are, but rather she just loves looking upon nature and watching her butterflies fly around her.
Likes:
List 3 of your characters likes
- Butterflies
- Archery
- Foxes
Dislikes:
List 3 of your characters dislikes
- Optimists
- Pessimists
- People who insult her butterflies
History:
Her mother and father died while she was very young. They were sent on a dangerous mission and never came back. They were assumed deceased shortly about a week after they failed to return. From then on she was raised by her grandmother who taught her the secrets of her bloodline and how to take care of herself. She was taught to use archery to her advantage, becoming an expert hunter. She was able to shoot down targets from almost one hundred meters away. She was able to notice things that most shinobi wouldn't pick up. She was trained to be an efficient killing machine, even without her butterflies. She was taught to track down anything that she needed to hunt. She was able to track a bear for 400 meters with ease at the age of six. Her grandmother was careful in teaching her that survival should not move into the realm of senseless violence. So Cho was then taught to use all the pieces of the animals for whatever she needed. Meat, fur, bones, it was all fair game for the young hunter. She was taught not to simply kill for the sake of killing. Unfortunately, shortly after she had entered the academy, her grandmother passed away. She was alone from then on. Knowing this world was nothing more than a cruel joke, she persevered, keeping her traditions and knowledge alive.
Face Claim:
Shinobu Kocho from Demon Slayer
Owner:
Zap Fosho